Veterans: Could You Detect A Fake Credit Card Terminal If Presented With One?
You've got enough problems already and might be trying to figure out how to get out of debt.  What with monthly bills trying to overwhelm your pay, the cost of everything rising constantly, and raises few and far between, we simply don't need the added burden of someone stealing from us.
That's why we should always be on our guard when it comes to protecting our personal information even if the big companies (we're looking at you Equifax) aren't up to the task.  In that light, we'd like to present you with a list of photos that will help you determine whether you should swipe that credit card, or put off your purchase until you get to a less shady feeling retailer.
So let's review the details that your eagle-eye should be trained to spot, in order to keep you from needing to file a fraud report.
1. Skimming Terminals Are Significantly Larger Than Normal
A skimmer should be longer and wider than the terminal itself to correspond to its size. That's why a skimming terminal is noticeably larger than a true one. This is the principal feature that helps recognize fraudulent devices.
Note the card depth of the reader on the left.  It almost practically swallows the entire card like you are performing a swipe inside the chip reader area.  If your card goes to far inside you might have a problem.
Chip reader terminals should only allow enough depth to get the chip just inside the reader.
@ingenico
2. Does the terminal look oddly sized?
A skimming mechanism MUST be longer and wider than the terminal itself in order to fit on top of it. That's why a skimming terminal is noticeably larger than a true one. This is the principal feature that helps you recognize any fraudulent devices you might come across.
Be on guard and constantly make note of the size of the average terminal reader you might use at your local convenience store, grocery store, or other highly trafficked areas.
That way, when you come across a reader that is bulkier than normal you'll say "No Thank You" to the purchase.
@ingenico
3. Are the button highlights missing or do they feel "odd" when pressed?
If so, you need to be on guard that the terminal you are using might not be worth the trouble of using.  If criminals are in a hurry, they might try to apply the cover interface too quickly, leaving a bad fit.
This will leave a problem with buttons.  A wary shopper would instinctively feel that something isn't quite right with the setup.
And leave.
@ingenico
4. Green LED light is not there, not working, or blocked
When using a proper terminal, each time you scan the card the reader will have a green light go on at the top of the reader.
When the underlying reader is covered, the light may be blocked or obscured.
Most people wouldn't notice this bit of information, but now you should be on the lookout, even when using a legit reader.  The reason is that the more you get used to seeing a properly working reader, the more likely you will spot a phony.
Be on guard!
@ingenico
5. Does the terminal cause a long line or delays?
Skimmers are often attached shoddily to real card readers.  This means that while the real reader is trying to do its job the skimming mechanism is getting in the way.
It may take several tries to make each transaction go through.  If you see this in the line you happen to be in, it may be best to put your stuff back.
Unless you're starving, with no other options for miles, it may be time to take that hike.
And save yourself some trouble.
@oberthur Technologies
6. Where's the freaking stylus?
Payment terminals that haven't been tampered with will have a stylus that allows you to create a signature after the card has been scanned.
A skimming plate that has been placed over the top of a real reader will necessitate removal of the stylus.
See in the photo how the area for holding the stylus has been taken up by the added skim plate cover.
It is residing on top of the real card reading mechanism, ready for cheating.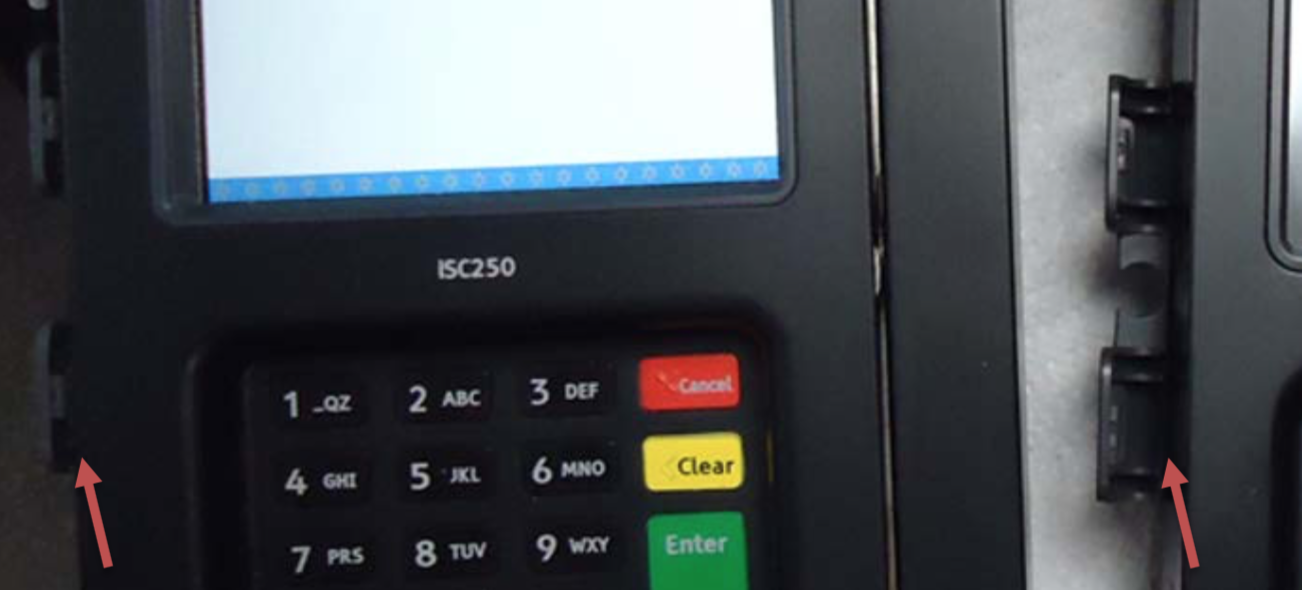 @ingenico
7. The machine just plain feels shoddy.
If you approach a card reader ready to put your credit card in, you might want to give it jiggle, tug, or a hard grab at the face plate.
If everything doesn't feel like it is all "of a piece" or tightly manufactured, think whether something could be wrong.
If the face plate feels like it could be removed, it may be a good idea to bring this to managements attention.
Or leave.
It's probably easier to leave, but others will very likely continue to be victimized.  Do what you think is best..
Note how much additional bulk this skimming reader adds.
8. It's not just retail store terminal's that are at risk.
ATM machines (particularly in 3rd world countries) are ripe for picking off card stripe information.
Just take a look at the photo below.  Is there anything that would make your spidey-senses tingle?
Well, the fact that the place where you enter your card doesn't have a normal, level look ought to tip you off.
If you knew nothing else, you should be able to say to yourself "that ain't right…" and keep moving.  The cracks in other areas of the interface might also give you pause.  This machine simply screams "Shady!"
Best to move on from this one, or you might end up with some awkward unknown charges on your bank or credit card statement.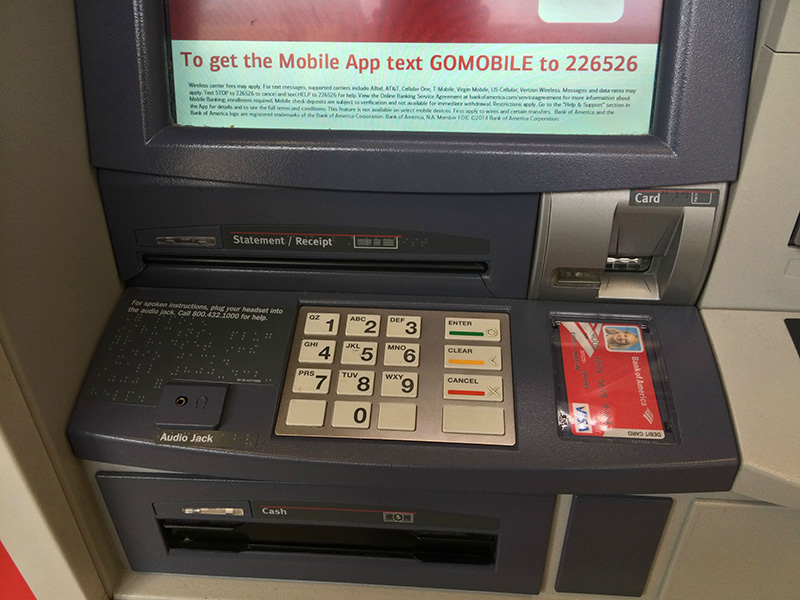 imgur
So there you have it.
Thieves are constantly on the prowl and are ahead of the curve.  I am sure that we'll be seeing much more sophisticated attempts to get our information in the near future.
However, at the very least we can become more aware of the less sophisticated stuff and protect ourselves.